Vhadlo Shigmo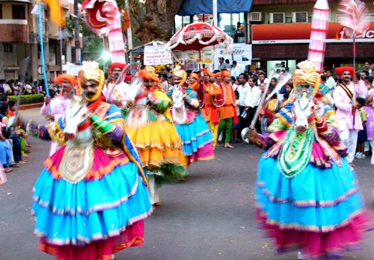 Vhadlo Shigmo
Shigmo is a widely celebrated festival of Goa. It takes place in the month of Phalgun (March) from the 9th to the full moon day according to the Hindu calendar. The festival commemorates the homecoming of the warriors who had left their homes and families at the end of Dussera to fight the invaders. Apart from the celebration in Rang Panchami, which resembles the Hindu festival of Holi, folk dances, songs, processions, and parades are the major attractions of this vibrant festival. There are some variations of this Shigmo festival; the Vadhlo Shigmo or big Shigmo and the Dhakto Shigmo or small Shigmo.
What Is Vhadlo Shigmo?
Vhadlo Shigmo is a variation of the Shigmo festival, which begins on the day of full-moon in the month of March or Phalguna and it continues for another five days. Vhadlo Shigmo means 'big Shigmo' and is celebrated in the regions of the recent conquests (that was under the Portuguese colonial rule) by the people belonging toall strata of the society.
The Rituals Performed in Big Shigmo:
Big Shigmo on the other hand is mainly performed in the temples of the villages. The people take bath and get dressed by putting on multi-coloured clothes. During the five days of Vhadlo Shigmo different dates of worshipping are fixed for different temples. The first day observes the bathing and dressing of the deity. The deity is dressed with a ceremonial cloth of saffron colour. Food is being offered to the deity that is followed by an extensive meal by the villagers.
Big Shigmo is celebrated on a large scale with pompous floats and processions and is considered to be the temple festival.