Dhakto Shigmo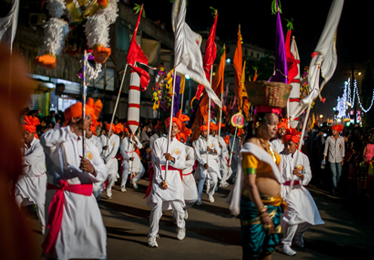 Dhakto Shigmo
Shigmo is the spring festival celebrated in Goa with a lot of pomp and zest for 14 days. It begins on the first day of the 9th moon and continues till the full moon. This festival is marked with a lot of fanfare, folk songs, and dances and elaborately designed marvellous floats. There are two variants of this festival, the Dhakto Shigmo or small Shigmo and the Vadhlo Shigmo or big Shigmo.
What is Dhakto Shigmo?
Dhakto Shigmo means 'small Shigmo' and starts about five days prior to the Full-Moon day and culminates on full-moon day of Phalguna month. It generally takes place in the regions which were beneath the rule of Portuguese Colonial from the sixteenth century also known as regions of the older conquests. Dhakto Shigmo is celebrated by the rural inhabitants consisting of the labourers and farmers or Kisan and the rural population or Janasankhya.
The Rituals Performed In This Festival:
Small Shigmo is considered as the festival of songs and traditional dances. This festival begins five days before the full-moon day of the Indian lunar month of Phalguna and ends on the full-moon day. Small Shigmo is celebrated with a lot of excitement and joy by the rural population of Goa. The 5th day of the festival is called Rang Panchami and is the real day of rejoicing. This day is celebrated much like the Hindu festival Holi, with "gulal"or red powder and the neel or blue colour.On the 11th to 15th moon day, the villagers set out with high spirit and festive mood, clad in vibrant, colourful attires and carrying toran or flags in their hands. They also carry column-like, red spotted "dwajas", and blowing flutes and beating drums to gather at the village temples, and dance in the temple court yard singing various folk songs to the beat of the drums.
The festivals begin with the 'Naman' song which is sung in a chorus by the villagers. Jot is another song which is sung by the villagers and it follows the Naman. There are also various kinds of dances that are performed such as Hanpet, Lamp Dance, Gopha, Talgadi,GhodeModni and Fugdi, etc. People visit the houses door-to-door by dancing to the beats of drums such as taso and dhol. After observing their performances, the people of the households donate money. This is followed by singing the 'Tali song, which is sung by the dance performers as a token of thanks for the donators.
Small Shigmo is that variation of the Shigmo festival, which is celebrated by the rural population (Janasankhya) and the farmers (Kisan). It is the festival of the vibrant folk dances and songs.