Significance of Shigmo - The Festival of Colours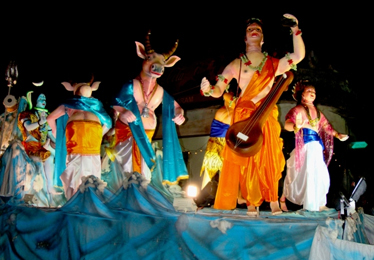 Significance of Shigmo- The Festival of Colours
Shigmo is one of the most celebrated festivals in the Indian state of Goa.It is a festival of colours, dance, music, and well lit colourful float parades. This festival falls in the month of 'Falgun' as per the Hindu calendar which is generally in the month of March. However, the exact dates depend on the position of the moon each year. It is also known as the festival of colours for people in Goa or 'spring festival', the celebrations of this festival span fourteen days.
History of Shigmo Festival
Like each festival in India, Shigmo too has a history behind its celebration. In earlier days, Sigmo festival was celebrated to honour the homecoming warriors who left their families back home at the end of Dusshera (another important Hindu festival) to fight the invaders. In order to welcome them, people performed various traditional folk dances and enacted various scenes from mythological stories making it a huge celebration.
The festival is also celebrated to mark the farewell of the winter season thus ripening of the winter crop also takes place during the Shigmo festival. There are two variants to Shigmo festival; DhaktoShigmo (small Shigmo) and VhadloShigmo (big Shigmo). The small Shigmo or the DhaktoShigmo is generally celebrated by the farmers, labour class and the rural population; whereas the VhadloShigmo is celebrated on a major scale and everyone takes part in the same.
Shigmo Festival Celebration
The festival begins with the start of Holi and lasts for fourteen days. It starts from the 9th moon day to the full moon day. The fifth day of the festival is known as "Rang Panchmi" and is celebrated with extensive use of 'Gulal' (traditional red powder). From this day onwards, there are various processions that are held across the city. Some of these processions are carried out in nearby temple areas where people enjoy dancing their hearts out and sprinkling 'Gulal' during the festive time.
During the Shigmo festival, localities dress up in colourful outfits and enjoy the festival by holding huge coloured flags, artificial swords and various other things in the street parade. Many of them also dress up as the traditional 'maharajas' or soldiers holding weapons in hand. People also play large musical instruments on the street which include the traditional Dhol, Tasha, flute etc.
Variety of dance types like 'Ghode-Morni' also known as horse dance, 'Fugdi Dance' and 'Rommatamel' are a part of the Shigmo celebration. Some modern and huge floats depicting the Hindu mythology participate in competitions held during the Shigmo festival, where the best performer is offered an award. Needless to say, Shigmo festival in Goa attracts good number of tourists who visit to be a part of this colourful festival with the parade.